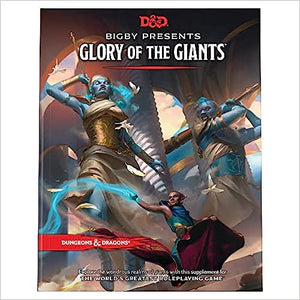 Dives into never-before-seen information about giants, and includes an overview of the hierarchical structure of ordning and the religion of giants, as well as insights into giant organizations and societies throughout the Multiverse.  
    Adds giant-themed player character options with which adventurers can evoke giant glory with 1 new barbarian subclass, explore the vast world of giants with 2 new origins and unlock 8 new gifts to unleash magical runes and wield elemental power.  
    Features a wonderful collection of over 30 magical items, including 3 illustrious artifacts.  
    Offers a host of tools for the dungeon master, including typical dungeon plans, adventure starters, treasures and tips for playing a giant.  
    Features a huge bestiary!  Over a third of the book is devoted to the universe, describing and profiling the monsters.  Discover a living ecosystem filled with new types of giants, over 70 new monsters and other huge creatures.