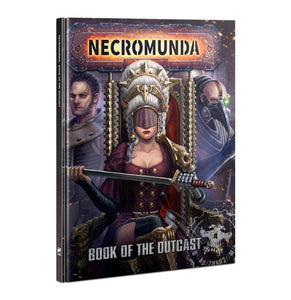 Inside this book you will find:– House Delaque History and Background:

 
An expansive and extensive background on the origins of House Delaque and how it went on to become the most secretive clan on Necromunda.
– House Delaque Gang List:
 All the rules you need in order to field a Delaque Gang in games of Necromunda.
– Hangers-on and Brutes:

 
Rules for hiring Hangers-on and Brutes for your Gang, including Delaque-specific ones and for using them in games of Necromunda.
– Hired Guns:
 Rules for using Bounty Hunters, House Agents, and Hive Scum.
– Strong Alliances:

 
Rules for forming alliances with three organisations that House Delaque has connections with, including the Iron Guild, Psi-Syndica, and House Ty – the Noble House that backs the House of Shadow.
– Additional Rules:
 This section includes new and additional rules usable by House Delaque gangs in games of Necromunda, providing Delaque players a variety of options, including Skills, Abilities, and gang-specific terrain.
– Weapon Reference Chart:
 A comprehensive weapons reference chart for all weapons and wargear available to House Delaque and their Allies.
– House Delaque Gang Tactics:
 A D66 table of Gang Tactics for use in Scenarios.
– Dramatis Personae:

 
Rules for hiring and using three brand-new Dramatis Personae characters in your games of Necromunda