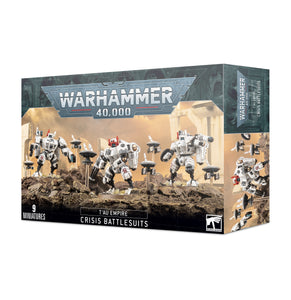 T'AU EMPIRE: CRISIS BATTLESUITs
This multi-part plastic kit contains everything needed to build three XV8 Crisis Battlesuits, with six accompanying drones. There's an impressive level of customisation available, with ball fittings allowing unprecedented posability. One miniature can be optionally assembled as a Shas'vre, with special head and chest plate, and there's a prodigious amount of advanced T'au weaponry in the box: four plasma rifles, three flamers, four fusion blasters, four burst cannons, three missile pods and three shield generators. The accompanying drones have options for gun, shield or marker variants, and you can build a total of six drones, with up to three of any one type. The kit also includes an assortment of battlesuit electronics systems. One model in the kit can even be built as the new, experimental Iridium-class XV8-02 Crisis Battlesuit - distinguishable by its thicker armour and aggressive appearance. Huge variety!

152 components are included in total, with three Citadel 50mm Round bases and three Citadel small Flying bases.