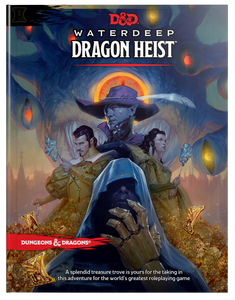 Experience the ultimate urban treasure hunt in this adventure for the world's greatest roleplaying game
.
"
A perfect starter campaign
."—Andrew Whalen, Newsweek
"
D&D acolytes are everywhere...Tech workers from Silicon Valley to Brooklyn have long-running campaigns, and the showrunners and the novelist behind 'Game of Thrones' have all been Dungeon Masters
."—Neima Jahromi, The New Yorker
"
Want to be part of something big
?"—A parchment tied to a flying snake, page 38 of Dragon Heist
Welcome to Waterdeep. You're summoned by Volothamp Geddarm, famous explorer and raconteur, to complete a simple quest. Is anything ever really simple though?
• Waterdeep, known as the City of Splendors, is one of D&D's most iconic locations. Also the setting for the board game Lords of Waterdeeep, it's the jewel of the Sword Coast—a sprawling melting pot held together by firm laws and swift justice.
• Take players through levels one to five in this Dungeons & Dragons adventure. Five story arcs guide players through each level for a multi-session campaign experience inspired by classic heist films.
• In D&D, you and your friends coauthor you own legend. Guided by a Dungeon Master, you create characters and play their roles in a story, rolling dice and navigating maps as you unfold a tale as limitless as your imagination.