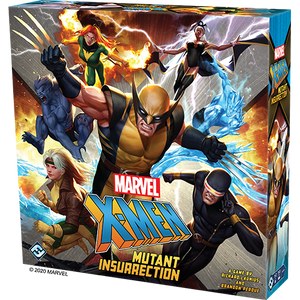 "We're X-Men. We know the risks. I have little fear for our friends… They've made their decision. And until we see them again, I will keep them in my prayers. But I fear more for those who would stand against them."
   –Nightcrawler
Though the world may despise them, the team of heroic mutants known as X-Men fight tirelessly to protect humanity from the sinister machinations of evildoers. Leap into the action with X-Men: Mutant Insurrection, a fast-paced, cooperative, dice-driven card game for one to six players! You'll build a team of iconic heroes like Wolverine, Rogue, Storm, and Jubilee, embark on dangerous missions around the world, and accelerate toward a thrilling showdown with a villain like Dark Phoenix, Magneto, or the Hellfire Club.
Designed by Richard Launius and Brandon Perdue, X-Men: Mutant Insurrection invites you to travel across the globe on death-defying missions to recruit new mutants, capture criminals, protect innocent lives, and battle some of the most memorable X-Men supervillains. Eight distinct scenarios await you and your X-Men, each with their own challenges and each leading to a no-holds-barred showdown against the villain. The Blackbird is ready to launch—join your team and fight for the future!